A scale model of my 1967 Ford Mustang Hardtop Coupe
Updated 2016-01-10
Introduction
In the winter time, when my Mustang is in storage and cannot be driven, one possible activity is to make a model of it. I searched for a while to find potential candidates, but in almost all scales, 1967 Mustang Hardtop is hard to find. Such models are either 1965 Hardtop, or 1967 Convertibles or 1967 Fastbacks and often Shelbys.
However, finally I came across a 1/18 scale of a 1967 GT Hardtop or Coupe and that was close enough to get started.
Below is a series of photographs with descriptions on what I did to make it look like my full size car.
The 1/18 models are delivered by Greenlight collectibles – in the "Muscle Cars" garage series: http://www.greenlighttoys.com/
I started with two cars. One Yellow and one Green.
Both 1967 GT Hardtops or Coupes but I basically used the green.
The starting point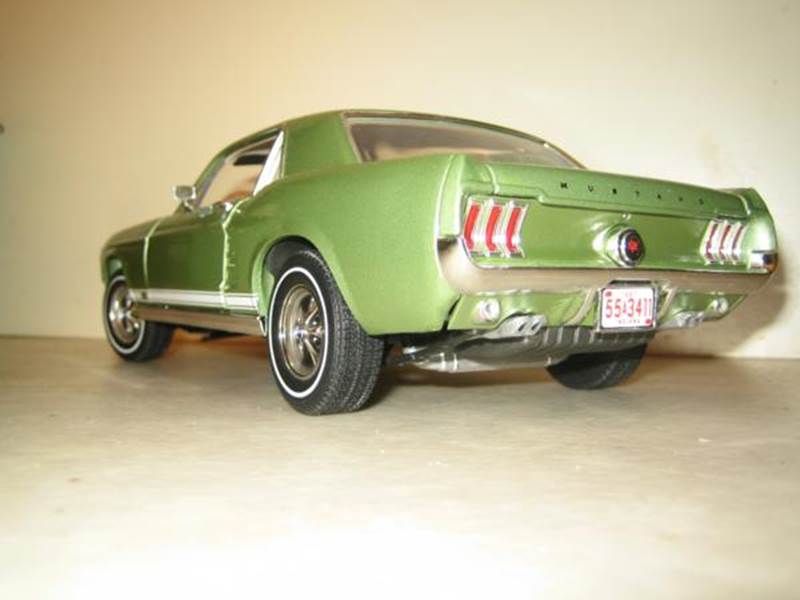 The green car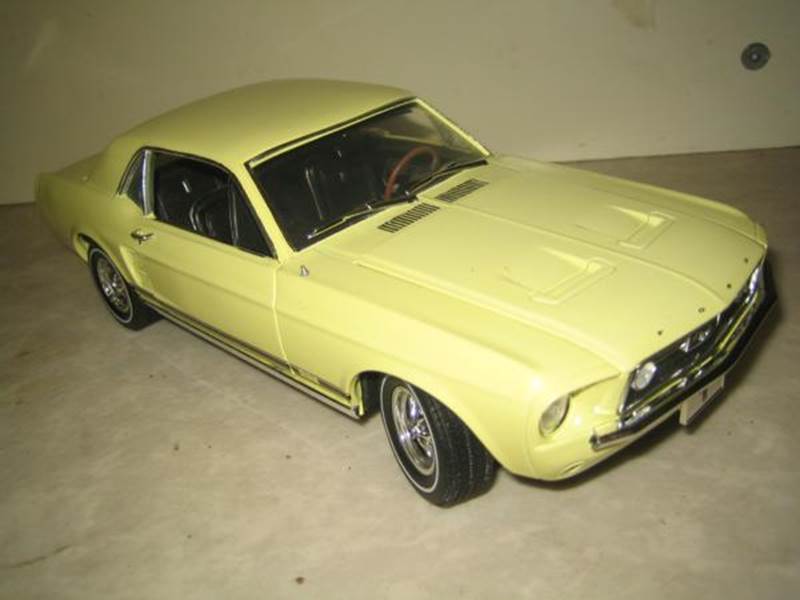 The yellow car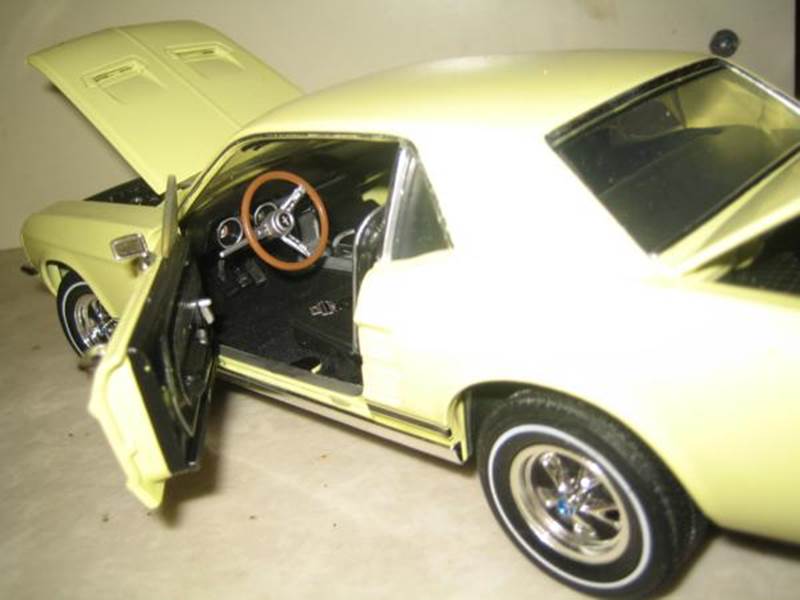 Doors, hood and booth can be opened and the steering wheel can be turned to turn the wheels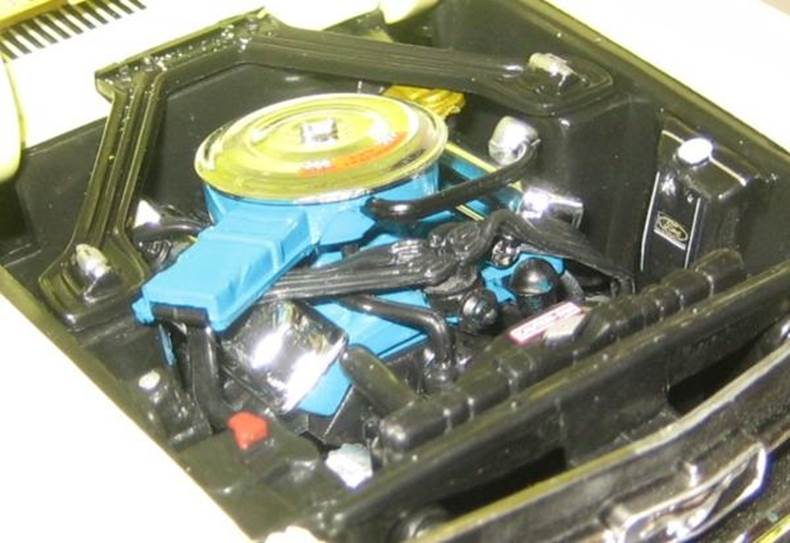 If you have seen an original Mustang engine compartment, you recognize the model as not so far from the real thing. However, this model has an original air cleaner with a pre-heating tube, whilst my car has a low resistance KN filter. So conversion was necessary.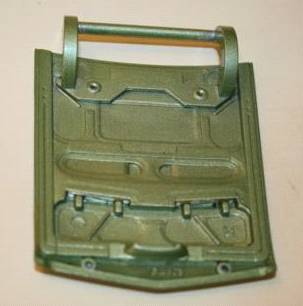 The inside of the bonnet. Traces of the hood mounted direction lights can be seen.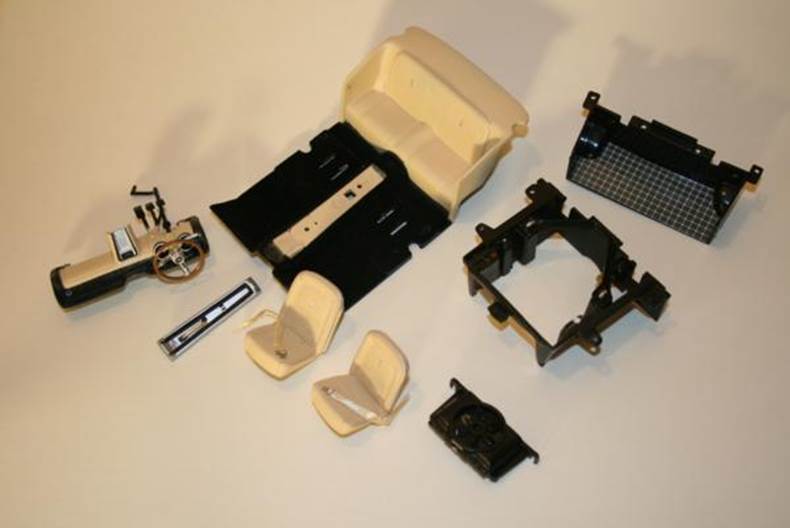 Here are the main inside parts. This car had a consol and manual gear, whilst mine has no consol and automatic. This means conversions had to be made. Seat colour is also beige, mine is black.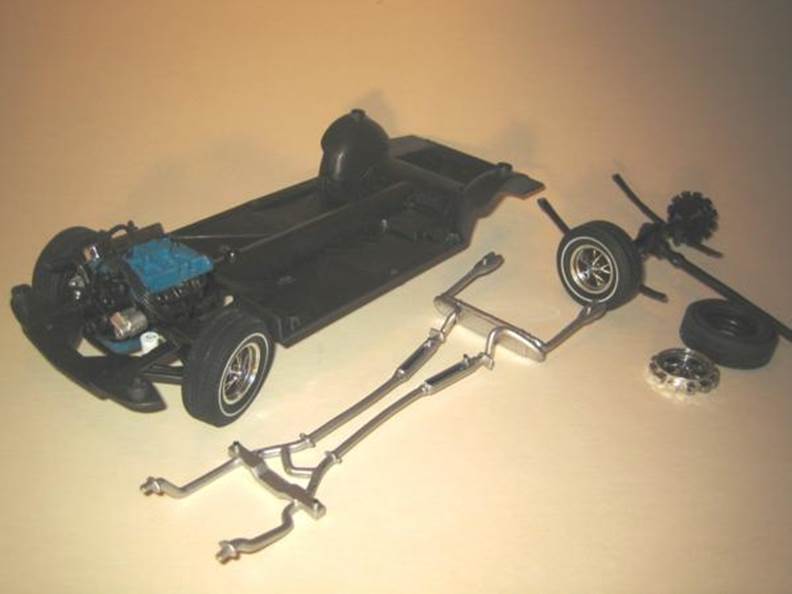 Chassis, exhaust tubes and wheels. My car does not have white line tyres, so that had to be removed. Further my intake manifold is not blue but cast aluminium.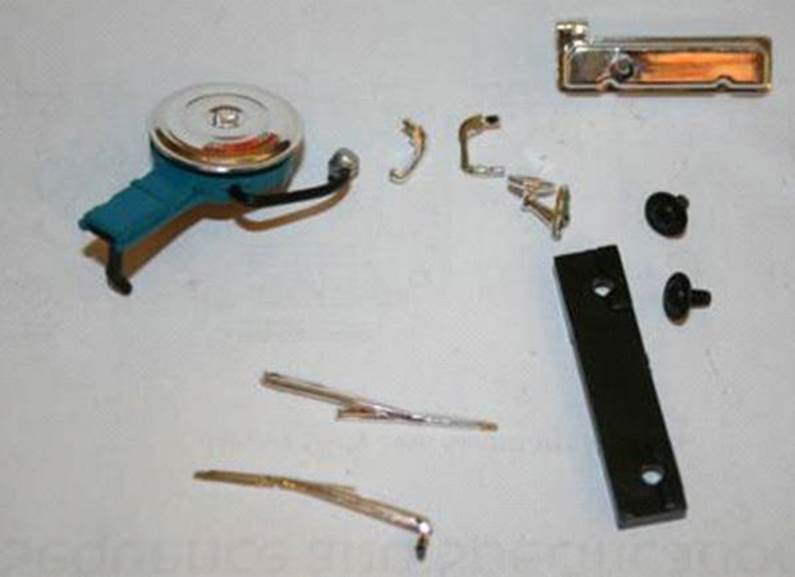 Air cleaner, windscreen wipers, door handles, valve covers and mirror removed before painting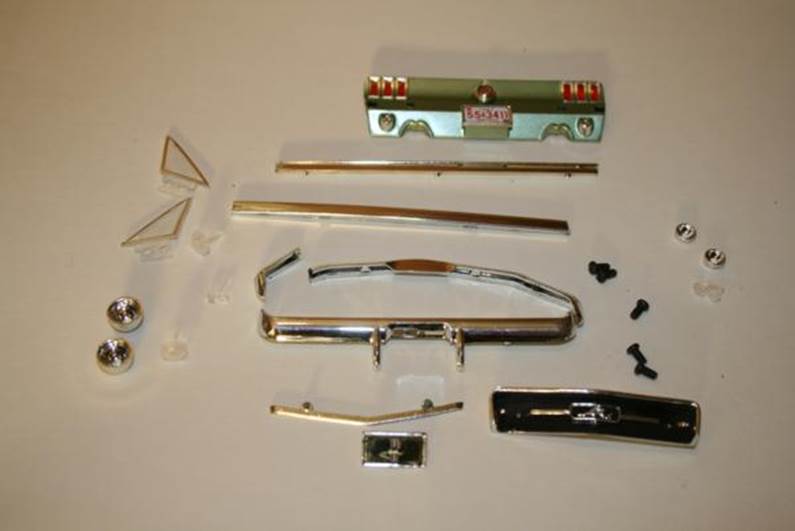 Windows, rocker panels, front window frames, headlights, fog lights and grill
Conversions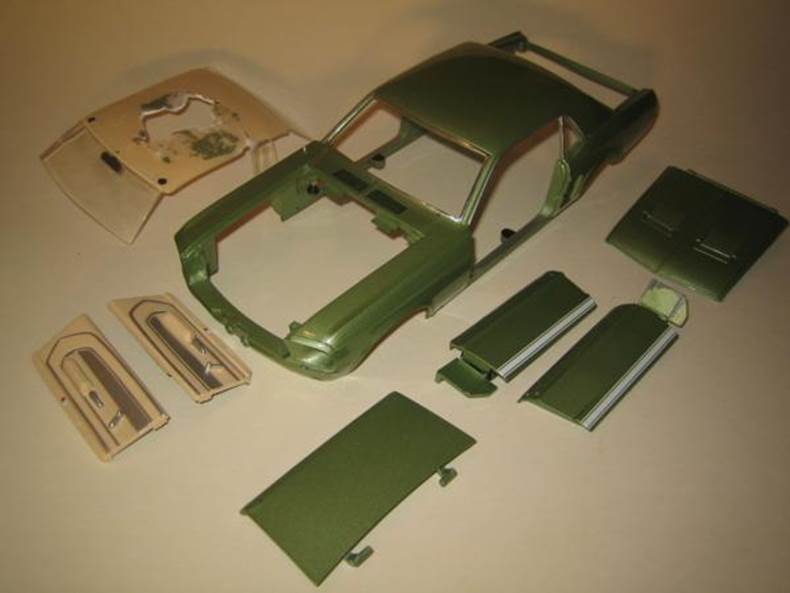 Here most of the main parts are taken a part for painting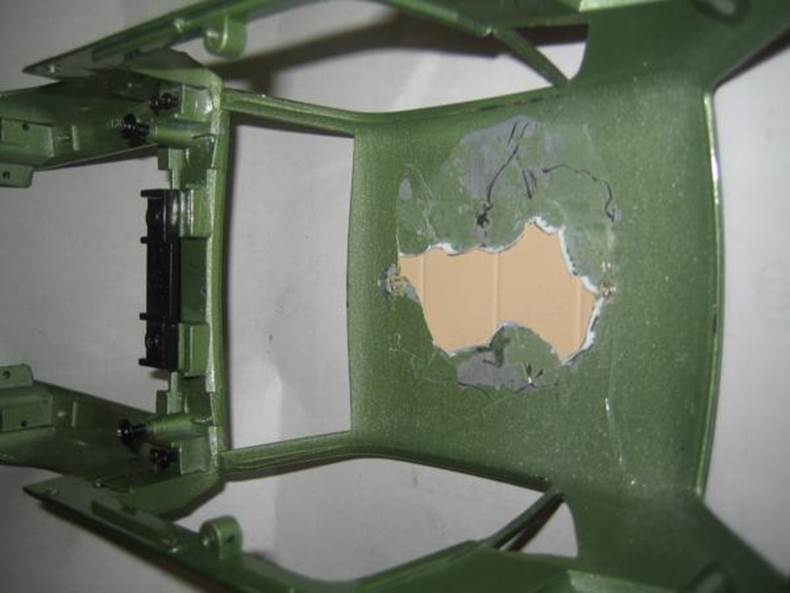 The windows are glued to the inside roof, so some violence had to be used to get is out.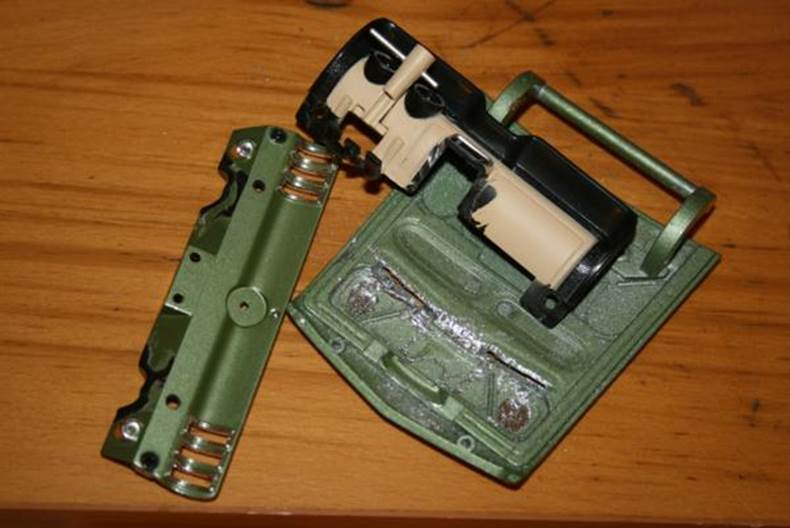 Here the aft part has been prepared for filling the notches for the exhaust (mine has none) and some of the details of the bonnet has been removed. The extension of the consol into the dashboard has also been removed.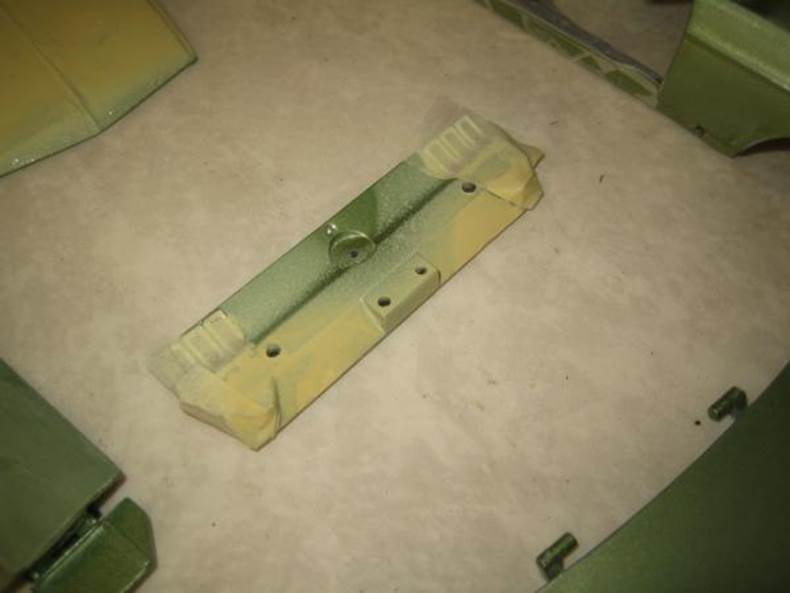 Here the notches for the exhaust tubes are gone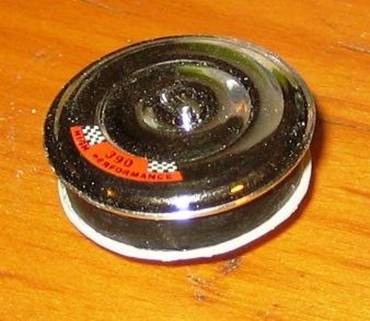 Air cleaner partly converted with a thin disc of plastic in the bottom. Paper filter yet to come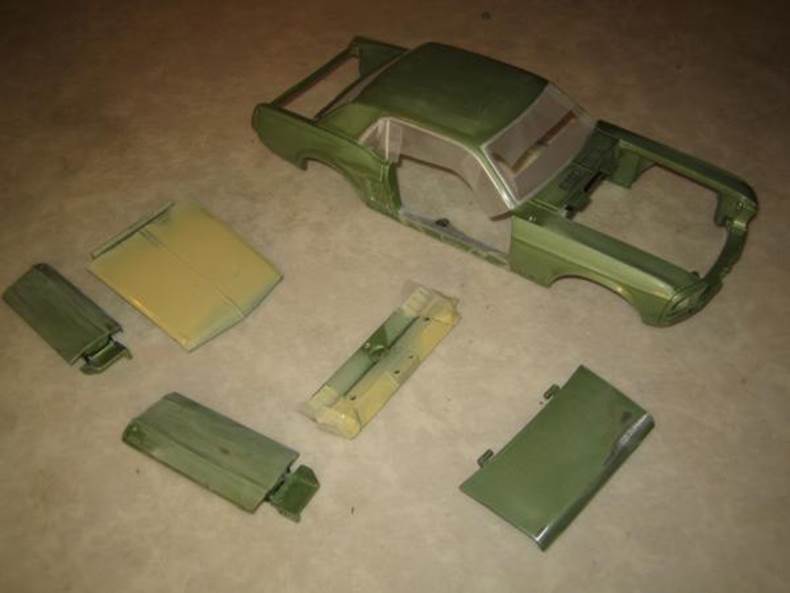 All main parts ready for painting. Chrome around windows ready masked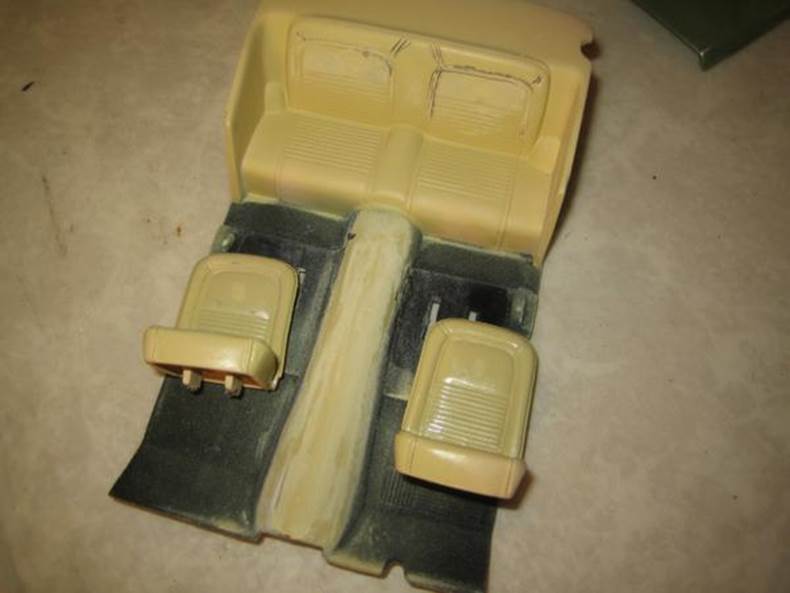 The model had "Pony Interior" and mined has standard so the seats had to be modified. Also the top of the tunnel had to be filled with polyester filler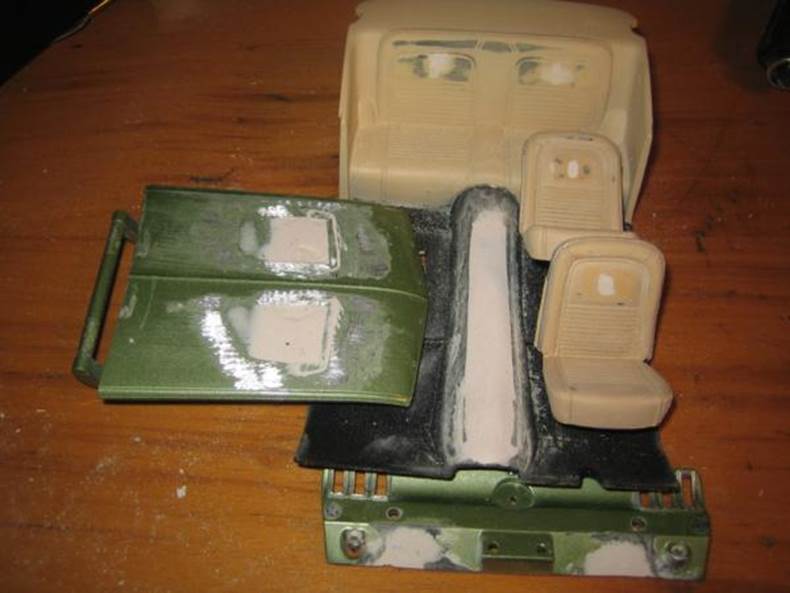 Several parts ready for primer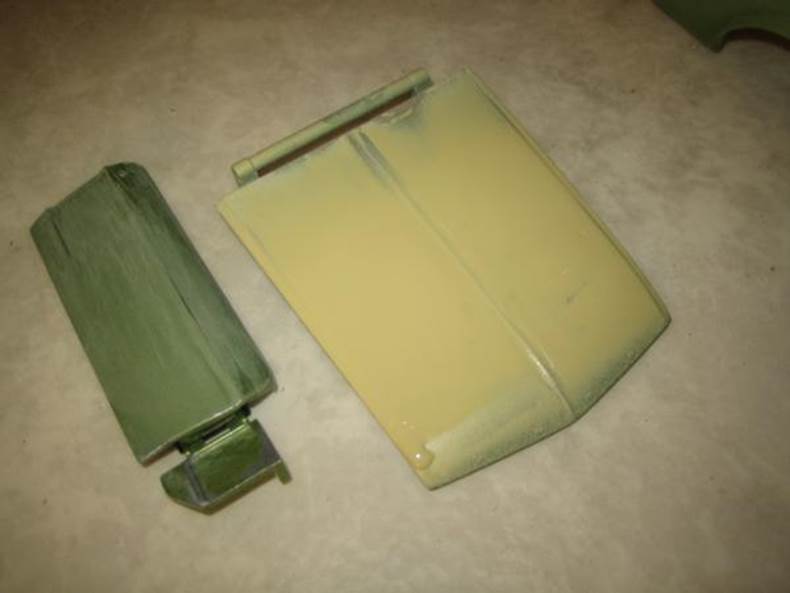 Right door and primed bonnet, now without hood mounted direction lights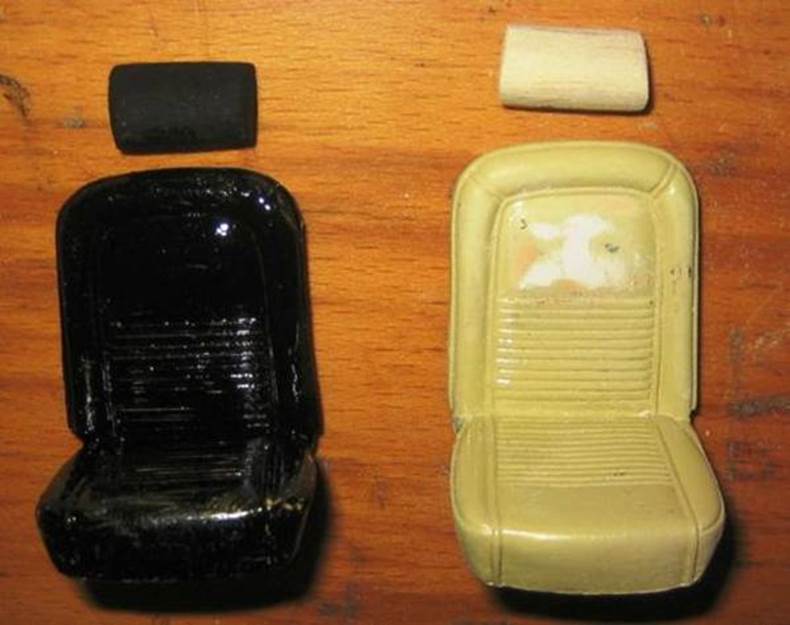 Front seats in the process of conversion, now also with headrests made of balsa wood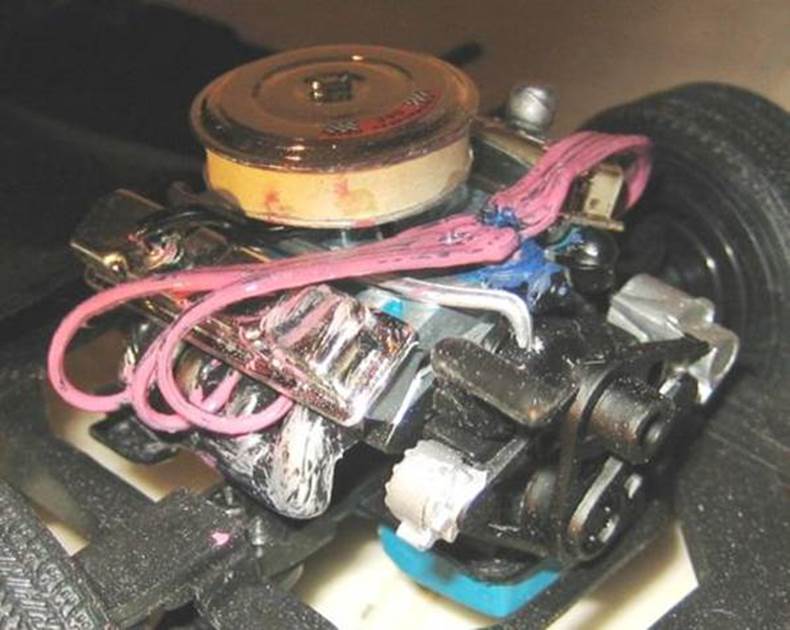 Detail of converted engine with more correct colours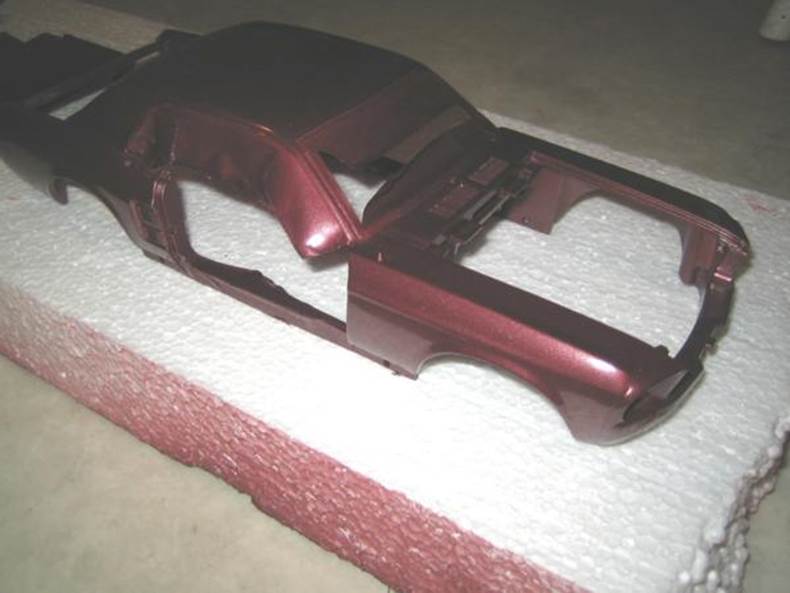 Main car spayed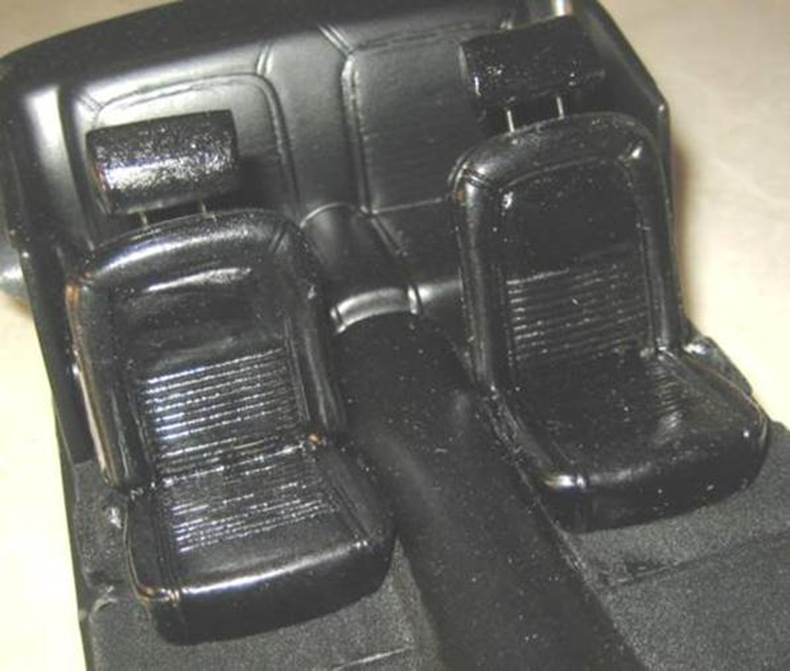 Seats ready, gear shifter still to come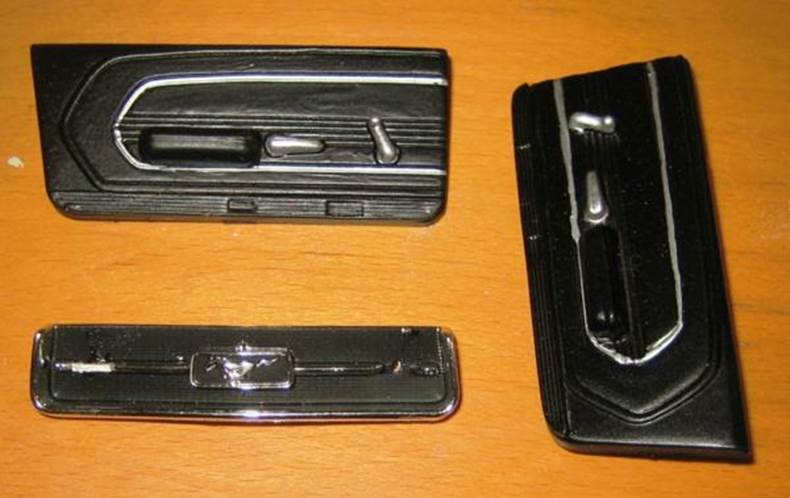 Inside of doors and grill without fog lights in the process of becoming right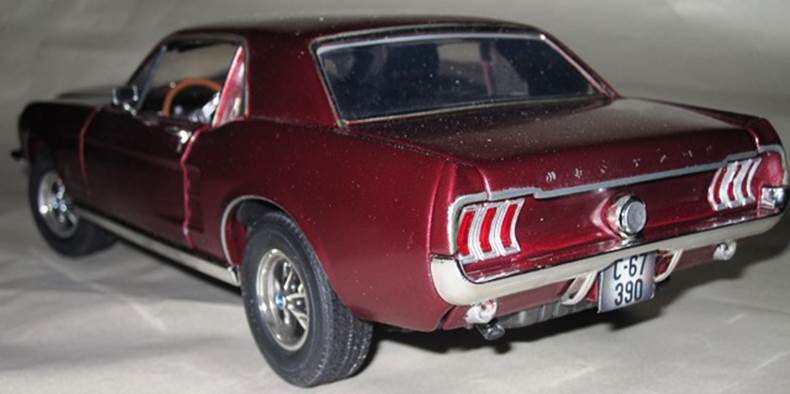 Finished model, aft view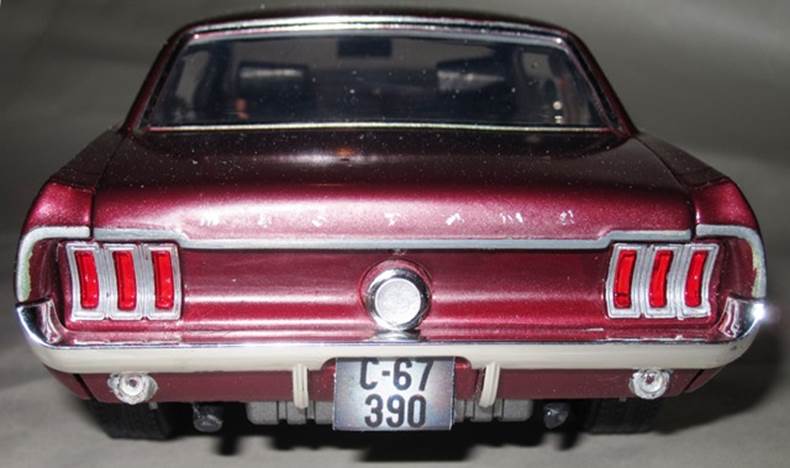 From behind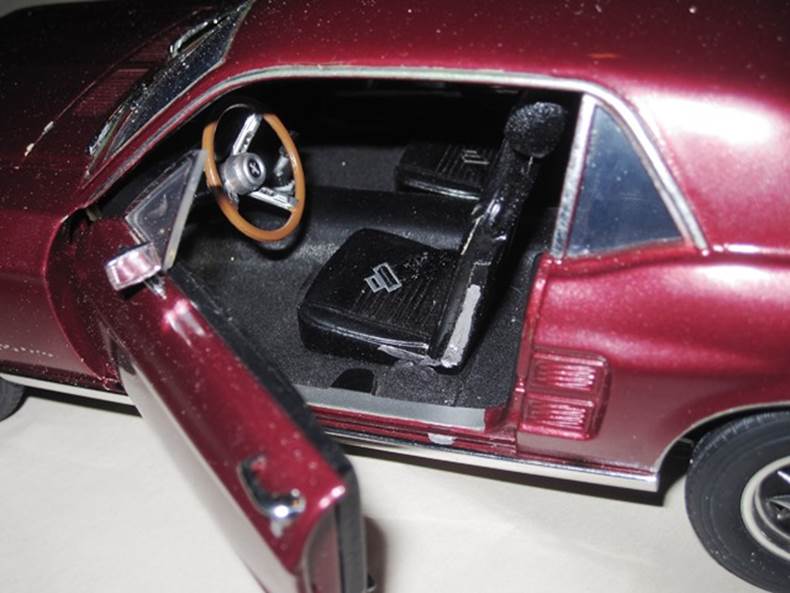 Seatbelts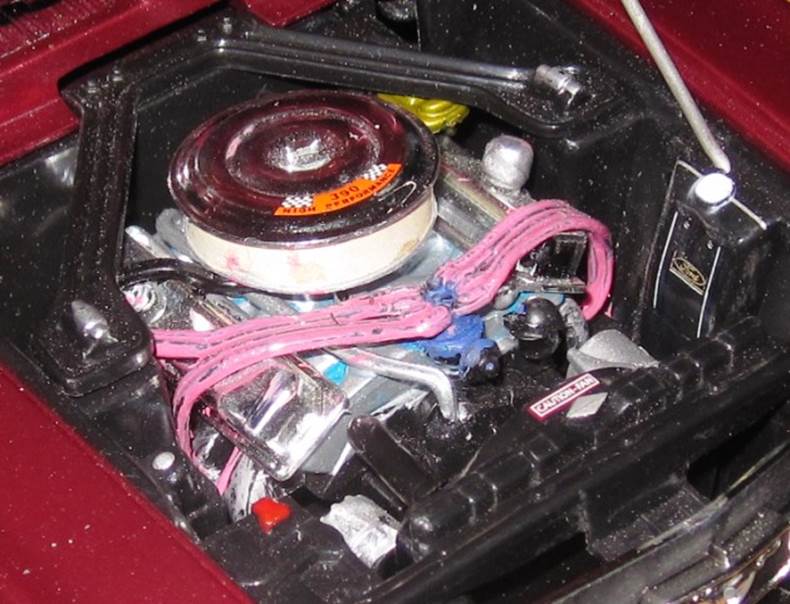 Engine in place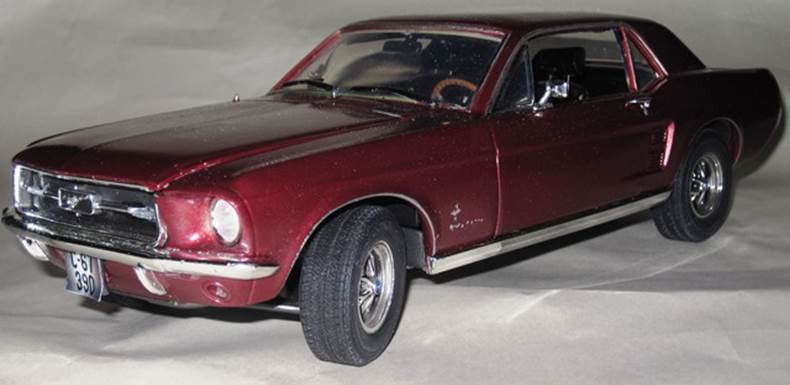 Side view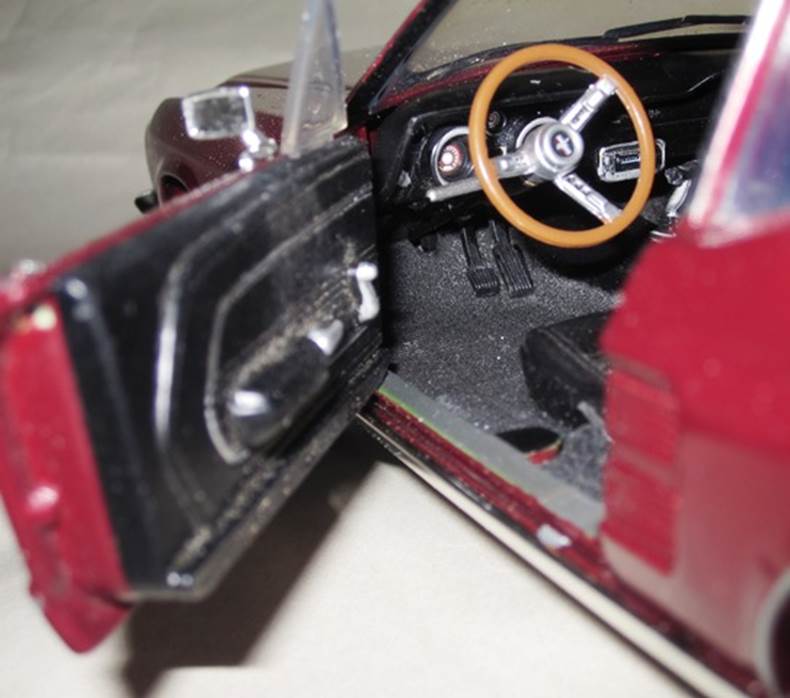 Please get in behind the steering wheel…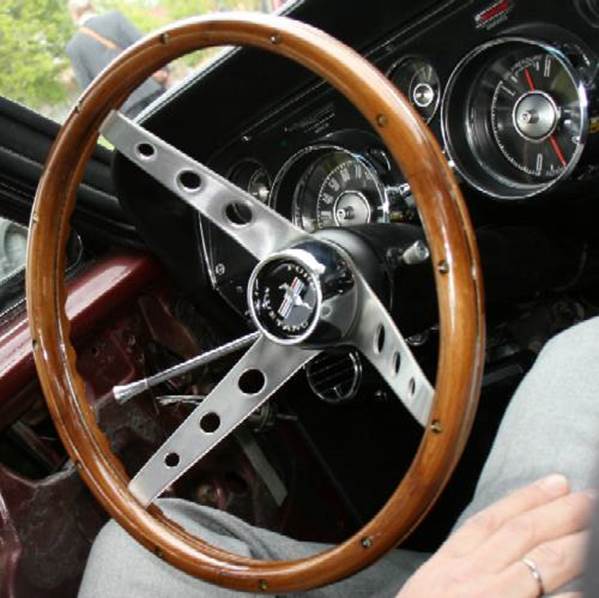 The real thing…